[av_section min_height=" min_height_pc='25' min_height_px='500px' padding='default' margin=" custom_margin='0px' svg_div_top=" svg_div_top_color='#333333′ svg_div_top_width='100′ svg_div_top_height='50' svg_div_top_max_height='none' svg_div_top_flip=" svg_div_top_invert=" svg_div_top_front=" svg_div_top_opacity=" svg_div_top_preview=" svg_div_bottom=" svg_div_bottom_color='#333333′ svg_div_bottom_width='100′ svg_div_bottom_height='50' svg_div_bottom_max_height='none' svg_div_bottom_flip=" svg_div_bottom_invert=" svg_div_bottom_front=" svg_div_bottom_opacity=" svg_div_bottom_preview=" color='main_color' background='bg_color' custom_bg=" background_gradient_direction='vertical' background_gradient_color1='#000000′ background_gradient_color2='#ffffff' background_gradient_color3=" src=" attach='scroll' position='top left' repeat='no-repeat' video=" video_ratio='16:9′ video_mobile_disabled=" overlay_enable=" overlay_opacity='0.5′ overlay_color=" overlay_pattern=" overlay_custom_pattern=" shadow='no-border-styling' bottom_border='no-border-styling' bottom_border_diagonal_color='#333333′ bottom_border_diagonal_direction=" bottom_border_style=" scroll_down=" custom_arrow_bg=" av-desktop-hide=" av-medium-hide=" av-small-hide=" av-mini-hide=" id=" custom_class=" template_class=" aria_label=" av_element_hidden_in_editor='0′ av_uid=" sc_version='1.0′]
[av_one_full first min_height=" vertical_alignment='av-align-top' space=" row_boxshadow_color=" row_boxshadow_width='10' margin='0px' margin_sync='true' mobile_breaking=" mobile_column_order=" min_col_height=" padding='20' padding_sync='true' svg_div_top=" svg_div_top_color='#333333′ svg_div_top_width='100′ svg_div_top_height='50' svg_div_top_max_height='none' svg_div_top_opacity=" svg_div_bottom=" svg_div_bottom_color='#333333′ svg_div_bottom_width='100′ svg_div_bottom_height='50' svg_div_bottom_max_height='none' svg_div_bottom_opacity=" border=" border_style='solid' border_color=" radius='20' radius_sync='true' column_boxshadow='aviaTBcolumn_boxshadow' column_boxshadow_color='#2e3192′ column_boxshadow_width='40' background='bg_color' background_color=" background_gradient_direction='vertical' background_gradient_color1='#000000′ background_gradient_color2='#ffffff' background_gradient_color3=" src=" attachment=" attachment_size=" background_position='top left' background_repeat='no-repeat' highlight_size='1.1′ animation=" link=" linktarget=" link_hover=" title_attr=" alt_attr=" mobile_display=" mobile_col_pos='0′ id=" custom_class=" template_class=" aria_label=" av_uid=" sc_version='1.0′]
[av_heading heading='Answering questions by the human brain' tag='h1′ style='blockquote elegant-quote elegant-centered' subheading_active=" show_icon='custom_icon' icon='ue853′ font='entypo-fontello' size=" av-medium-font-size-title=" av-small-font-size-title=" av-mini-font-size-title=" subheading_size=" av-medium-font-size=" av-small-font-size=" av-mini-font-size=" icon_size=" av-medium-font-size-1=" av-small-font-size-1=" av-mini-font-size-1=" color='custom-color-heading' custom_font='#f70000′ subheading_color=" seperator_color='#f70000′ icon_color='#2e3192′ margin=" margin_sync='true' padding='10' icon_padding='10' headline_padding=" headline_padding_sync='true' link=" link_target=" id=" custom_class=" template_class=" av_uid='av-ld7hrpn9′ sc_version='1.0′ admin_preview_bg="][/av_heading]
[av_textblock textblock_styling_align=" textblock_styling=" textblock_styling_gap=" textblock_styling_mobile=" size=" av-medium-font-size=" av-small-font-size=" av-mini-font-size=" font_color=" color=" id=" custom_class=" template_class=" av_uid='av-ld7hsl2f' sc_version='1.0′ admin_preview_bg="]
"Dr. Fereydoun Shahidi" is one of these proud Iranian names that has taken the fourth place among scientists in the world.
Dr. Shahidi is an Iranian living in Canada, who is a professor of biochemistry at "Memorian University of Newfoundland" in this country. He is the author of more than 500 scientific articles and the author of 30 famous books in the world. He has lectured in more than 300 international scientific conferences and introduced his books to scientists and scholars all over the world.
Since Dr. Shahidi received his doctorate in "natural organic chemistry" from McGill University in 1977 and joined the biochemistry department of Memorian University in 1987, he has always been known for his efforts and meticulous research in fields such as food chemistry. , food biochemistry, seafood, aquaculture and food taste have been respected by scientific societies of the world.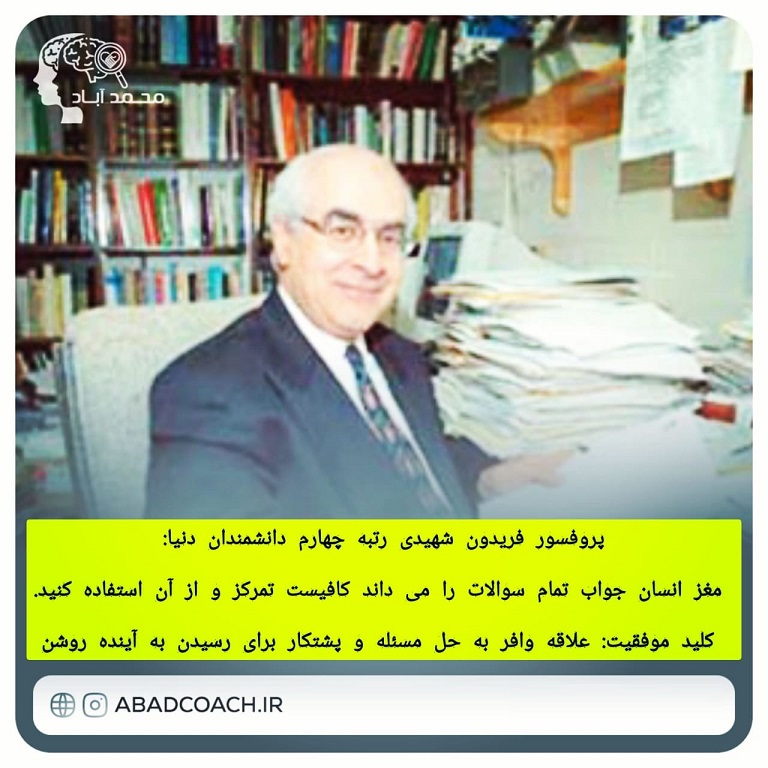 [/av_textblock]
[av_image src='https://abadcoach.ir/wp-content/uploads/2021/10/abad-kart.jpg' attachment='937′ attachment_size='full' copyright=" caption=" image_size='portfolio_small' styling=" align='center' font_size=" overlay_opacity='0.4′ overlay_color='#000000′ overlay_text_color='#ffffff' animation='av-rotateIn' hover=" appearance=" link=" target=" title_attr=" alt_attr=" img_scrset=" lazy_loading='disabled' id=" custom_class=" template_class=" av_element_hidden_in_editor='0′ av_uid=" sc_version='1.0′ admin_preview_bg="][/av_image]
[/av_one_full][/av_section]